7 Experiences to Have While Visiting Savannah, GA
I spent two days in Savannah, Georgia in late December. Here are seven experiences I suggest you have so you can soak up all the magic this lovely coastal city has to offer!
1) Stroll Around Forsyth Park
Location: Drayton Street & West Gaston Street
Forsyth Park is the largest park in the Historic District of Savannah. Between the abundance of oak trees covered with Spanish moss and its iconic large fountain, Forsyth is a great place to relax and get a quintessential feel for Savannah's charm! On Saturdays, they have a farmer's market. There are also several events and festivals that happen throughout the year.
2) Stroll Along Historic River Street
Location: River Street
Located along the Savannah River, Historic River Street is a popular attraction among locals and tourists. It's a cobble-stoned paved street bustling with century old buildings and warehouses converted to a variety of businesses. It's a lovely place to enjoy a river front dinner, nightlife, and boutique stores.
3) Get a Quick History Lesson
When I travel, I always seek out opportunities to learn about a city's history. Along River Street, you will find various monuments and information about important parts of Savannah's history. Pictured above is a monument of a slave family and some information on Savannah's role in the transatlantic slave trade.
4) Check out River Street Sweets Candy Store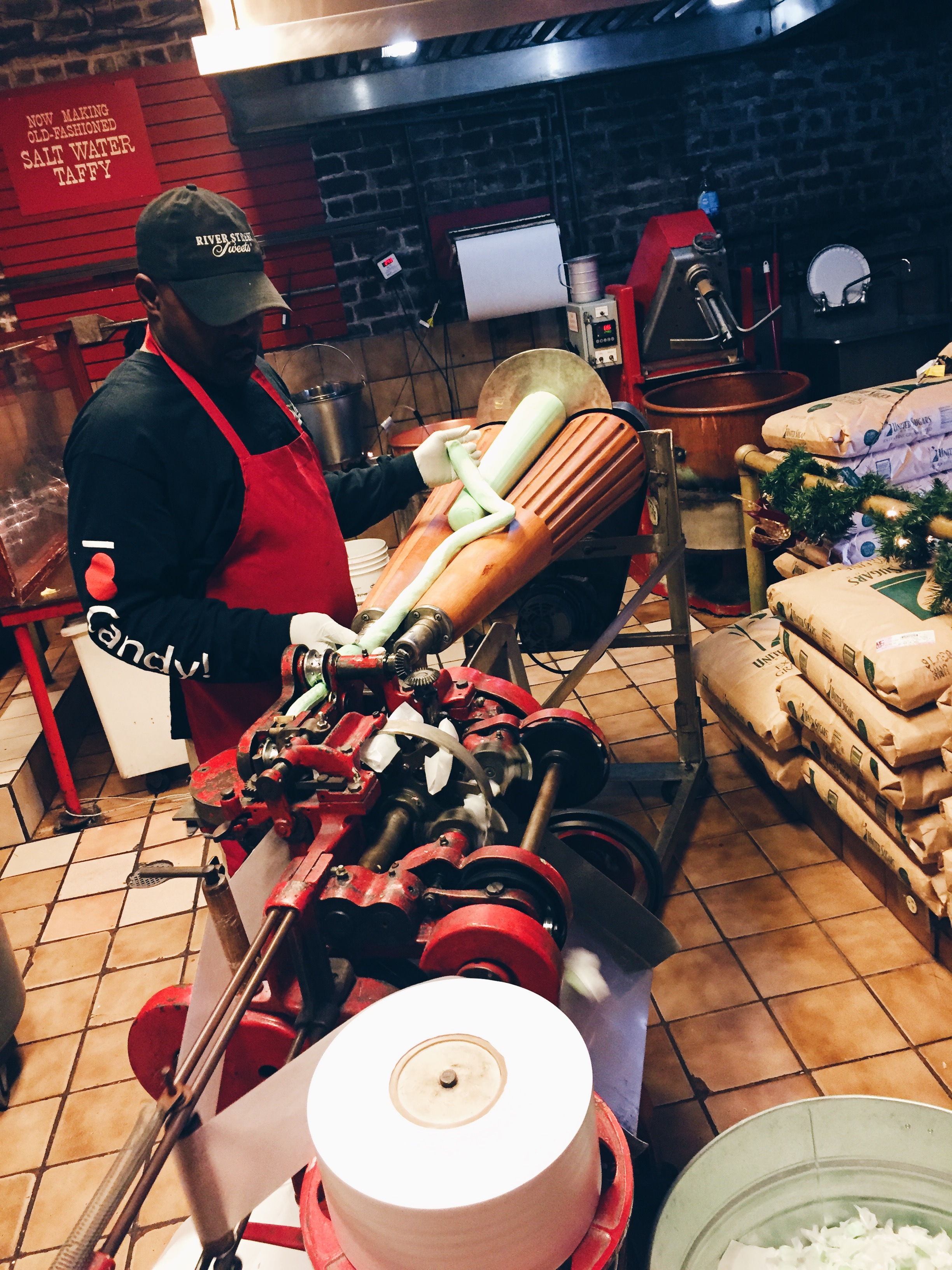 Location: 13 East River Street
If you are into sweets, definitely check out River Street Sweets Candy Store. At the very least, go in to see taffy being made and get a free sample!
5) Try Leopold's Ice Cream
Location: 212 East Broughton Street
Leopold's Ice cream has been around since 1919 and has a vintage feel to it. It's very popular, and you more than likely may have to wait in a long line, but it's worth it! After trying numerous samples, I settled on the double scoop caramel swirl and coffee cone *yum*.
6) Take a Day Trip to Jekyll Island
Location: Jekyll Island
Jekyll Island is an 1.5 hour drive from Savannah. While there are plenty of activities to do at Jekyll, I primarily went to visit the gorgeous Driftwood Beach which is on the north end of the island. I took a nice walk and caught a sunset there, which was mesmerizing!
7) Visit the Savannah Bee Company
Location: 104 West Broughton Street
If you are a honey lover, you MUST visit the Savannah Bee Company! They have a variety of artisanal honey, everyday honey, and raw honey comb. You can try them all for free. I also recommend their mead tasting.
I got a good taste of Savannah, but I definitely need to go back and explore some more!
Have you taken a day trip to Savannah? What did you do during your visit?!
Pin for later:
Disclaimer: This post contains affiliate links, which means I receive a small commission if you make a purchase through them, at no extra cost to you. This helps me keep this site up and running and bring you useful free content. Thanks so much for your support!