A Weekend of Food, Culture & Adventure in New Orleans
Four friends, 1,708 miles, lots of snacks, and great stories. My girl's road trip from Durham, North Carolina to New Orleans, Louisiana was EVERYTHING! At first, a 12.5 hour drive seemed overwhelming (especially if you are like me and hate to drive) but, split among 4 drivers who are good co-pilots, the drive was totally doable. We hit the road around 9pm on a Thursday night and arrived Friday morning around 9am. Nola is on Central Daylight time which means even though we spent about an hour taking food and gas stops, we gained an extra hour when we got there!
What I loved about this road trip is that we really maximized our short weekend stay. Our time in Nola was filled with good food, lots of laughs, cultural experiences, and great night life.
Here's a recap of our weekend in Nola:
Transportation
We parked our car in a Premium Parking lot that was a 5-minute walk from our hotel in the downtown area. We paid for 24 hours at a time. In Premium Parking lots, you can come and get your car as much as you'd like. However, they say that parking isn't guaranteed if you leave and come back. But we found that there was an abundance of parking. This is probably something that should be considered if you visit during a major event like Mardi Gras. Parking is free on Sundays! For the most part, our car stayed parked and we ubered or walked throughout the trip.
Food
Beignets
You can't go to Nola and not visit Cafe Du Monde. We definitely went about 3 times! This $3 goodness is the perfect sight-seeing break snack.
Po' Boy
A Po' Boy is a classic New Orleans sandwich. It is a long French baguette packed with either meat or fried seafood. We went to Mike's Serio's Po' Boys and Deli and grabbed a fried shrimp Po' Boy. I didn't realize how big the sandwich was when I ordered it. I didn't think I could eat the whole thing by myself, but I did!
Crawfish
Cajun Seafood is the place to get the best crawfish. It was recommended to us by a lot of people. We went to their Treme location. We knew we made a great decision when we arrived to a very long line with a lot of locals (they always know the best places). I bought 2 pounds of crawfish (I probably could have been ok with 1-1.5 pounds) and some corn on the cob. We sat by the New Orlean's Riverfront and enjoyed our food with a view of the Mississippi River.
Snow Cones
Hansen's Sno-Bliz Shop was another popular spot. They had an abundance of flavors. I got the honey lavender with lemon and condense milk which was delicious!
Places to Visit
History & Culture
Whitney Plantation
I highly recommend visiting the Whitney Plantation. While there are many plantations surrounding Nola, the Whitney is the only one that focuses on the experiences of the slaves on the plantation. We were fortunate enough to go on a 2-hour walking tour led by their Director of Research. The Whitney Plantation is a powerful homage to all the slaves on the plantation and in the U.S. South.
Jackson Square
If you've watched the Princess & the Frog, this may look familiar to you. It is a historic landmark and a nice place to take a stroll. It's right across the street from Cafe Du Monde. The perfect opportunity to walk off your beignets.
Night Life
Frenchmen Street
This was my second trip to New Orleans. For my first trip, I was in my early 20s and our night-life consisted of Bourbon Street. During this second trip, we walked through Bourbon street at night once for a drink and it was OVERWHELMING.
Frenchmen Street was more our scene. All the bars have live music, so we spent a lot of time hopping around listening to the different amazing bands. One of my favorite memories was when my friend Joy and I got on stage to be backup dancers for a singer that was performing Tina Turner's Proud Mary. We were low-key celebs that night!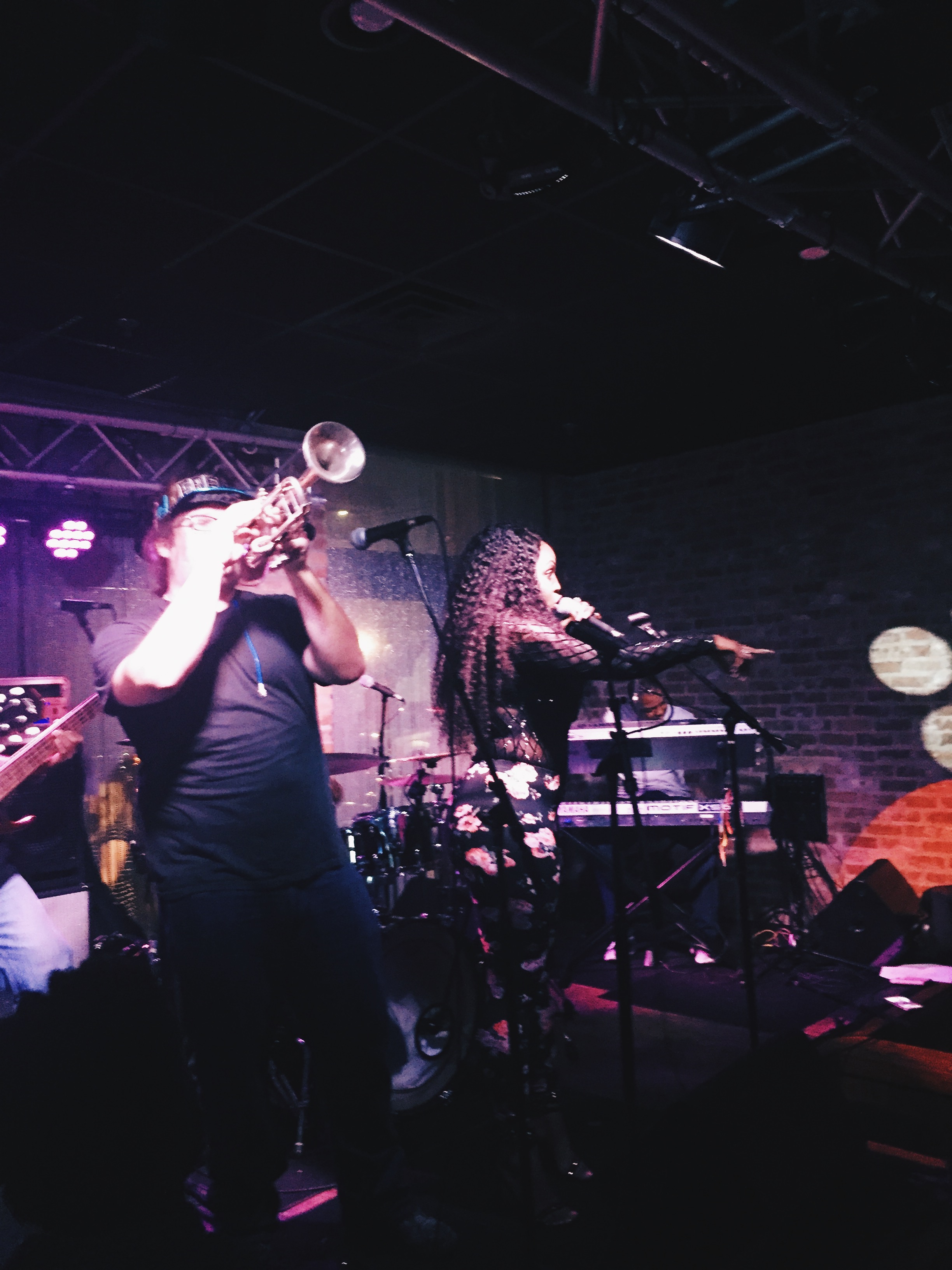 Adventure
Swamp Tour
We went on Groupon to book a Covered Swamp Tour Boat ride with the Ultimate Swamp Adventures. For an additional cost, they offer transportation to the tour, but we drove there on our own. The staff were hilarious! Our tour guide was knowledgeable and a lot of fun. We saw a few alligators and got to pet a baby alligator on the boat. The next time I visit I want to try the tour on an airboat.
I'm actually really amazed about what we were able to accomplish during our short weekend stay in Nola. And I must add that we did all of this well-rested (nap time was prioritized)!
Have you been to New Orleans? How did you spend your time?
Pin for later:
Disclaimer: This post contains affiliate links, which means I receive a small commission if you make a purchase through them, at no extra cost to you. This helps me keep this site up and running and bring you useful free content. Thanks so much for your support!