The Ultimate 7 Day Peru Itinerary
My first time visiting Peru was during a 9 hour layover in Lima back in January 2018. I really didn't know what to expect during my trip to Peru, but my short time there turned out to be so magical, I knew I would travel back there sooner rather than later. In celebration of my recent transition into a new career, I spent 9 adventurous and fulfilling days in Peru. I traveled in June and split my journey between Lima, Ollantaytambo, and Cusco, where we got to experience some of Peru's jaw-dropping landscapes, ranging from a desert oasis to mystical mountain ranges.
Here's a sample 7 day Peru itinerary, including a Peru budget that I'm sure will leave you with an unforgettable Peru vacation.
Day 1 (Lima):
Pisco Sour & Ceviche Cooking Class with the Lima Gourmet Company
Cooking Class Cost- $40
One of my favorite ways to learn about a culture is through its food. Of course, I jumped at an opportunity to take a Lima cooking class. After all, it is the world's leading culinary destination. Pisco sour is Peru's national drink and ceviche is the national dish. We took a one-hour pisco sour and ceviche cooking class with the
Lima Gourmet Company
. It was one of the most fun, educational, and delicious things to do in Lima, Peru!
This Lima cooking class was held at a cevicheria at noon. Cevicherias have a rustic and open look modeled after traditional fisherman houses. Before the creation of refrigeration, Peruvians only ate ceviche during the day because fresh fish would go bad before nightfall. Till this day, the tradition remains, as the majority of Peruvians still eat ceviche only during the afternoon, and several of Lima's traditional cevicherias only operate during lunch hours.
We started our class working in pairs to make pisco sour. If you never had a pisco sour, try one ASAP -- it's basically the equivalent of having happiness in your mouth. The cocktail consists of egg whites, simple syrup, lemon juice, and of course, pisco! Pisco is a brandy. There are eight kinds of grapes that make pisco. The grape varieties are classified in two ways: aromatic piscos, primarily used to clear the palate before a meal and to help with digestion after a meal, and non-aromatic piscos, which are used to make the pisco sour. Beware, one pisco sour has an alcohol volume of 42%! There were also a variety of interesting ingredients available to infuse our cocktails with, but we decided to keep ours classic.
After making our drinks and getting a little toasty, we made ceviche. Prior to this, I've never had ceviche, so I didn't know what to expect. Ceviche is made from fresh raw fish cooked in citrus juices, such as lemon or lime, and spiced with chili peppers. We cooked the ceviche family-style alongside the chef. I was surprisingly proud of the way my ceviche turned out, and it tasted similar to the chef's!
Lima Gourmet's cooking class was the perfect way to start our Peru itinerary. The staff was really fun and we got to keep our aprons as a souvenir. The next time I do some more Lima, Peru travel, I want to check out their award-winning food tour!
Day 2 (Paracas & Huachachina):
Day Trip from Lima to Ballestas Islands & Huachachina with Peru Hop
Day Trip Cost- $119
Peru is filled with an abundance of beautiful and diverse landscapes. I was on a mission to maximize our time and see as much as possible during our Peru itinerary.
Peru Hop
is a safe, flexible, and affordable way to tour Peru. Their buses operate hop-on/hop off style where you can easily reach some of the top destinations in Peru. Peru Hop truly made exploring the Ballestas Islands and Huachachina a fun and painless process!
Ballestas Island
Our day started at 6am with a 4-hour bus ride to the Ballestas Islands, a group of rocky islands that are off the Pacific coast near the town of Paracas. The Ballestas Islands are a top Peru destination and are known for their abundant wildlife. They have over 1,500 species of marine birds and a lot sea lions. We explored the islands for two hours by speedboat. Despite it being a gloomy day, I was enamored by the beautiful caves, arches, and soaring birds.
Pro-tip:
If you get motion sickness (something I'm notorious for), be sure to take a Dramamine. I was fine while the boat was in motion, but when we stopped to animal watch, I got really nauseous and felt like I was going to throw up (thankfully I didn't). I took one Dramamine pill, but the next time I'm on a speedboat tour, I will take two.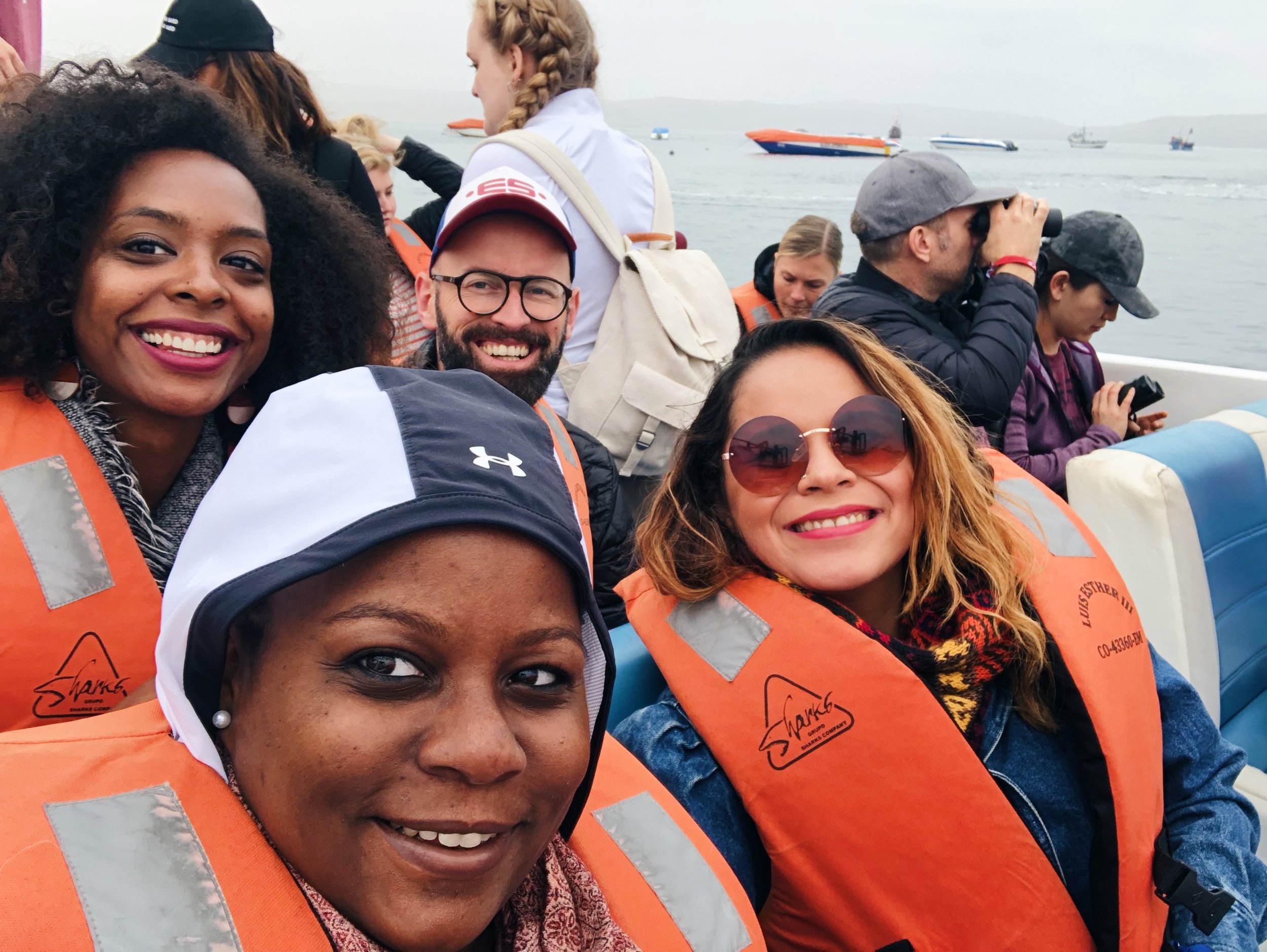 Huachachina
After the Ballestas boat tour, we quickly grabbed a snack and got on the bus for an hour bus ride to Huachachina, the only desert oasis in South America. While there, we went on a Huachachina dune-buggy tour and then sand boarding! We ate a light lunch at a restaurant called Desert Nights, which has the best view of Huachachina from its rooftop. I chose a salad because I didn't want to be too full before the bumpy dune-buggy ride.
The buggy ride was so exhilarating and fun, but I could have cut the time spent in the buggy in half. The ride was bumpier than I imagined, and I'm pretty sure all my organs shifted during this experience! But, I'm definitely glad I did the dune buggy tour and they did a good job of breaking up the ride with rest stops.
Pro-tip:
If you have any health conditions that can be worsen with extreme motion, I would avoid doing the buggy ride. You will be shaken to your core!
Sandboarding was also a lot of fun. It was my first time trying and I was quite nervous after seeing how steep the first slope was. Our driver, David, gave us chalk to apply to our boards and gave us detailed instructions on how to properly ride the board. As first time sandboarders, we were advised to start on our tummies. We went down three slopes; after going down the steep one first, the other two were a piece of cake. The experience ended with us watching a lovely sunset.
Day 3 (Ollantaytambo):
Travel Day: Cusco to Ollantaytambo via Chinchero
Private Driver Cost- $33.58
Day 3 of our Peru itinerary was a travel day where we flew from Lima to Cusco and then took a taxi from Cusco to Ollantaytambo. Our two hour drive was broken up with a stop in Chinchero. Chinchero is a quaint town where its residents are very much routed in traditional Incan culture. We stopped by the Chinchero Weaving Factory and Demonstration Center to learn about how locals extract, clean, and dye alpaca fur and about the traditional weaving process. Once you're in Peru, you will immediately notice the beautiful colorful textiles and alpaca clothing everywhere! It was nice to gain insight into how these masterpieces are produced and to support the women by purchasing some items.
Day 4 (Aguas Caliente):
Day Trip from Ollantaytambo to Machu Picchu
Total Cost- $232.52

Machu Picchu Ticket- $48.52

Peru Rail Train Tickets (roundtrip)- $150

Bus from Agua Calientes to Machu Picchu (round trip)- $24

Tour Guide- $10
Day 4 was a dream come true! We went to visit the iconic Incan city, Machu Picchu. It is known as the Lost City of the Incas because it was never discovered by the Spainards. Machu Picchu is one of the new Seven Wonders of the World, so visiting Machu Picchu should be at the top of everyone's Peru itinerary. There is a lot that goes into visiting Machu Picchu, so click here to learn more.
Day 5 (Cusco):
Travel Day: Ollantaytambo to Cusco via Sacred Valley of the Incas
Total Cost- $110.56

Sacred Valley Admission- $21

Animal Sanctuary Admission- $4.56

Private Driver- $85
On Day 5, we hired a driver/tour guide and traveled from Ollantaytambo to Cusco and did a Cusco tour via the Sacred Valley of the Incas. The Sacred Valley is one of the top things to do in Cusco and was once the epicenter of the Inca Empire. This area includes the Andean mountains and the valley around the Urubamaba River. On our way back to Cusco, we stopped by the Ollantaytambo and Pisac Ruins. At the Ollantaytambo ruins, we purchased the 2-day tourist ticket that allows you to explore Ollantaytambo, Pisac, Chinchero, & Moray. I would have loved to visit all four of the sites included in our ticket, but we prioritized listening to our bodies and sleeping in a little later. There is also a 10-day tourist pass that allows you to explore Pisac, Chinchero, Moray, Saqsayhuaman, Tambomachay, Q'engo and Ollantaytambo and other museums and historical sites. These passes can be purchased with cash only at the entrances of any of these attractions.
The Ollantaytambo ruins is another top Cusco attraction. Its large stone terraces are remarkable and the site is well-preserved. At the top of the ruins, we saw the most incredible view of the town.
Pisac has stunning large agricultural terraces surrounded by steep mountain drops. Within the stone crevices of the mountains, there is an ancient cemetery where about 3,000 Inca are believed to be buried. The best part about our Pisac day trip was the lack of tourists there! I was shocked but happy to have to experience without the typical huge peak season crowds. Also, I loved learning about how the Incas were able to create sustainable agricultural systems by working with nature and not against it.
Pro-tip:
The Cusco ruins are best explored with a local guide who can provide history and context. If you are pressed on time, you could potentially see Ollantaytambo, Pisac, Chinchero, & Moray if you start at 7am when the sites open. You can easily spend at least 2-3 hours in each place. If you have more flexibility in your Cusco travel schedule, I recommend focusing on 2 ruins per day and spending more time at each while you tour Cusco.
After Pisac, we went to visit the Santuario Animal de Ccochahuasi. It is a family-owned and operated animal sanctuary that rescues animals that have been abused or brought into the black market. They also protect endangered species.
Day 6 (Vinicunca):
Day Trip from Cusco to Rainbow Mountain with Wayna Peru Expeditions
Total Cost- $42.74

Rainbow Mountain Tour- $27.48

Rainbow Mountain Admission- $3.05

Horse rental one-way- $12.21
On Day 6, I checked off another bucket list item of mine -- a Rainbow Mountain Trek, also known as Vinicunca. This varicolored mountain stands 16,000 feet above sea level and was just discovered 5 years ago. I had a wonderful time doing a Rainbow Mountain tour with
Wayna Peru Expeditions
.
Check out my Rainbow Mountain travel tips for getting through this challenging experience.
Day 7 (Lima):
Temple of the Sun Visit in Cusco & Travel to Lima
Admission Cost- $3.04
Before traveling back to Lima we went to visit the Temple of the Sun, Coricancha, which is said to be the most important temple in the Incan Empire and one of the top Cusco points of interest. Not only did the temple honor the sun god, but it was constructed in alignment with stellar and planetary motion, which permitted for a precise stream of golden sunlight to beam through its windows every solstice for the Andean New Year.
The first thing I asked myself when I walked in the Temple of the Sun was, why does it look like a Catholic Church? That's because the Spanish colonists destroyed the temple and used its foundations to build the Church of Santo Domingo. We were one of the first people to arrive at the temple, and there weren't any tour guides available at that time. There also weren't many posted signs or placards to provide detailed information about the site. So we started talking to Mario, a gardener at the temple, who happily provided us with some interesting information about the temple's history.
Bonus Day
Cusco- Plaza De Armas Exploration & Spa Day
We had planned to see more ruins around Cusco, but that was before we realized that Peru was playing against Denmark in the World Cup! They haven't been in the World Cup in over 30 years, so this was a huge deal. So we bought some jerseys and watched the game in Plaza De Armas. The crowd was massive and the energy was insane. Even though Peru didn't win, it was still a special moment to be a part of! If you have extra time in Cusco, be sure to check out the Plaza De Armas because they often have interesting public events happening.
After the game, we got a well-needed full body and hot stone massage near Plaza De Armas for $12. It was one of the best massages I've had in a while and a great way to end a very active trip.
Peru Budget
With its charm and mystery, Peru left a big impression on our hearts. Here's the total per person cost (based on a group of 3) for our trip to Peru:
Roundtrip flight from NYC to Lima in June- $679

Roundtrip flight from Lima to Cusco in June- $68

Private Driver from Cusco to Ollantaytambo- $11.19

Private Driver/ Guide from Ollantaytambo to Cusco via Sacred Valley- $28

Accomodations- $238

Food & Drink- ~$150

Pisco Sour & Ceviche Cooking Class- $40

Day trip to Paracas & Huachachina from Lima- $119

Machu Picchu- $232.52

Sacred Valley Admission- $21

Animal Sanctuary Admission- $4.56

1-hour Full Body Massage- $12

Rainbow Mountain- $42.74

Temple of the Sun: $3.04

Total Cost-$1,649
Have you ever gone on a Peru vacation? Let me know about your Peru travel experience in the comment box below!
Check out these posts to help guide your visit to Peru:
Disclaimer: I was a guest of the Lima Gourmet Company, Peru Hop, and Wayna Peru Expeditions, but all opinions expressed here are my own. This post contains affiliate links, which means I receive a small commission if you make a purchase through them, at no extra cost to you. This helps me keep this site up and running and bring you useful free content. Thanks so much for your support!